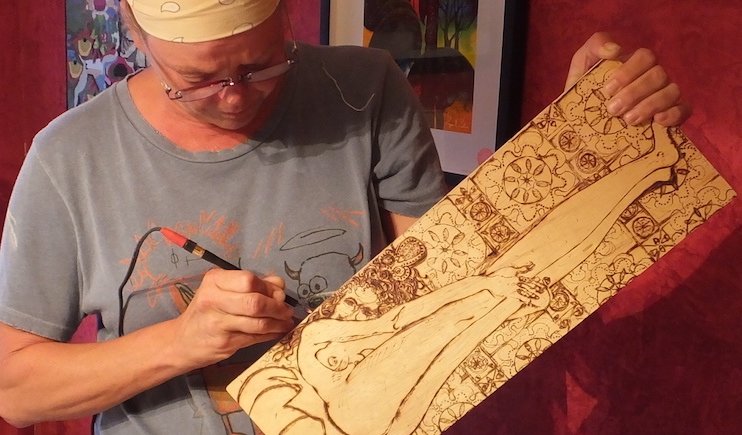 .............
B
orn in Texas and raised in Tennessee, Steffi Sutton has pursued art her entire life. While attending kindergarten in Germany, her teacher told her mom, GiGi, that she would be an artist. She graduated from the University of Tennessee at Knoxville with a BFA in Graphic Design and a minor in Photography. Steffi returned to Nashville and worked with small design firms
before leaving for Europe when the wall came down in Germany in 1990. she visited family and met East German relatives who were finally able to travel into the West. Traveling alone got her as far south as Santorini, Greece & as far east as Istanbul, Turkey. Steffi worked and lived in New York City for a decade before relocating to Southern California. She almost lost an eye from a Joshua Tree spike and this near tragedy, in turn, aided her rediscovery of art and her passion for it.
F
ire is in her life. Her sister is a burn survivor of a car accident which led her to move to CA in 2000. She also lost her 1947 cabin in the hills of Pioneertown 7/11, 2006. Discovering the pyrography tool seems a natural process. She loves the unique elements it brings into her line work. Keeping 'the line' at the forefront of her assembled compositions and burned panels, she takes on different surfaces. Repurposed wood and old patina frames with buttery wood are a joy to explore with both paint and fire. Her sense of whimsy is ever apparent in her final images of mythology, astrology, science, and fable. The sun + moon and fire appear often on her quest for a sense of time and how it passes.
S
teffi's interests always include the human form, in particular, the female figure. She explores the combining of bone & muscle with the figurative line, where perspectives become warped in the pushing and pulling of space, a Baroque style quality.
H
er themes shift to plant, animal, spiritual + environment, but always seem to return to the human figure; understanding it and its' and place in the world, as well as her own.
.............